Crown in sync with economic progress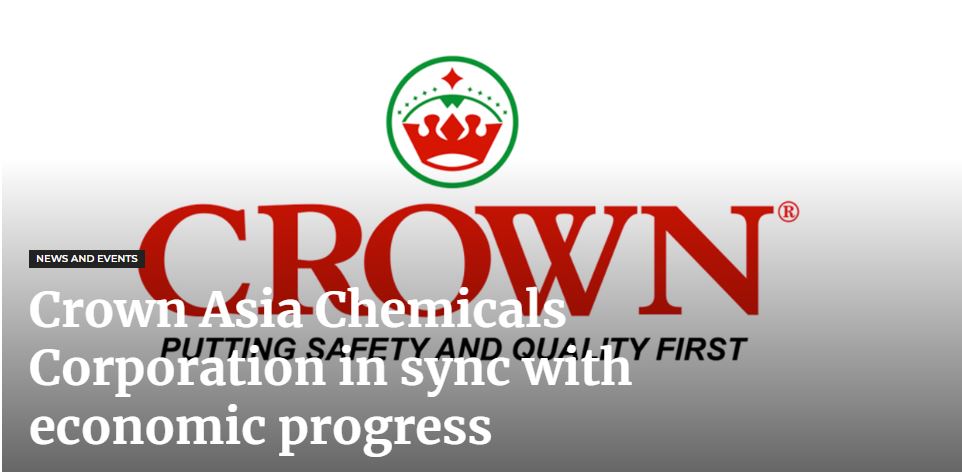 Crown Asia Chemicals Corporation (CROWN) completed its 2022 dividend distribution with the 2nd tranche of Php 0.05 per share paid out on July 19, 2022. The company ended the 2nd quarter, which concluded in June 2022, with a 2.2 percent increase in earnings from the same period in 2021 and a 7 percent increase in revenues. This comes as a result of various headwinds in quarter 2 wrought with global conflicts, international supply chain delays, inflation, increase in wages, fuel costs, and power supply.
Being defensive with its credit evaluation contributed to the toned-down revenue generation of CROWN. The management has opted to stay prudent with the funds' liquidity to preserve operational capabilities, with production capacities in full swing in order to serve a continuous stream of orders. Preserving the delicate balance between revenue generation and operations fluidity remains a key focus of the management.
The management is optimistic about the tide-tuning trends in the coming 3rd quarter, coming from the policy statements of President Ferdinand R. Marcos, Jr. focusing on food security, education, and rationalizing health strategies.
Notably mentioned are his marching orders to pursue a stronger push in infrastructure which would ideally target 5-6 percent of GDP. Further, the pivot to engage more private participation bodes well for a needed encouragement to the private sector that will generate employment and revitalize economic activities and downstream businesses.
With infrastructure being among the key priorities of the new administration, CROWN continues to pursue robustly its participation in providing its leading brand of pipes and fitting, notably to the Bulacan Airport, North Commuter Railway, Metro Manila Subway, Skyway-3, MRT-7, NLEX-SLEX Connector Roads, and Wawa Dam. CROWN pipes were used in finished flagship projects like CALAX and MMDA CCTV.
CROWN started in 1989 as a manufacturer of premium PVC compounds supplied to wire and cable manufacturers. As of now, CROWN PVC compounds expand to supply to diversified manufacturing industries such as manufacturers of films and packaging for consumable liquid products, doors, window profiles, and foot wears.
The company, being ISO certified and having quality manufacturing standards, has maintained world-class pipe products, premium PVC compounds, energy-saving PVC roofing products, compact and economical potable septic tanks, and bathroom equipment and fixtures. Also, they provide safe, quality, and sensible value to different construction sectors.
Back in 1998, the company embarked on manufacturing PVC pipes and fittings with its vision of being world-class and putting safety and quality first. This constancy of purpose has driven the company in the attainment of its ISO 9001-2015 Certification of Compounds Division on March 19, 2018, and Pipes Division on July 9, 2018, after a stringent audit by the ISO certificated bodies. Supporting the operations are carefully crafted policies and operating manuals, and fully integrated financial and operational ERP systems that speed up processes.
CROWN, managed with good governance and consistent ethical business practices, earned the company, for the second time around, a spot among Forbes Asia's Top 3 Philippine companies of 200 Under a Billion (in US Dollars), selected from 20,000 listed companies across the Asia Pacific Region.


This award was given to selected companies based on long-term sustainable performance and a composite score on overall track score on metrics such as debt, sales, earnings-per-share, and compliance to regulatory bodies with no legal issues.