Crown Attends Forbes Asia Virtual Awards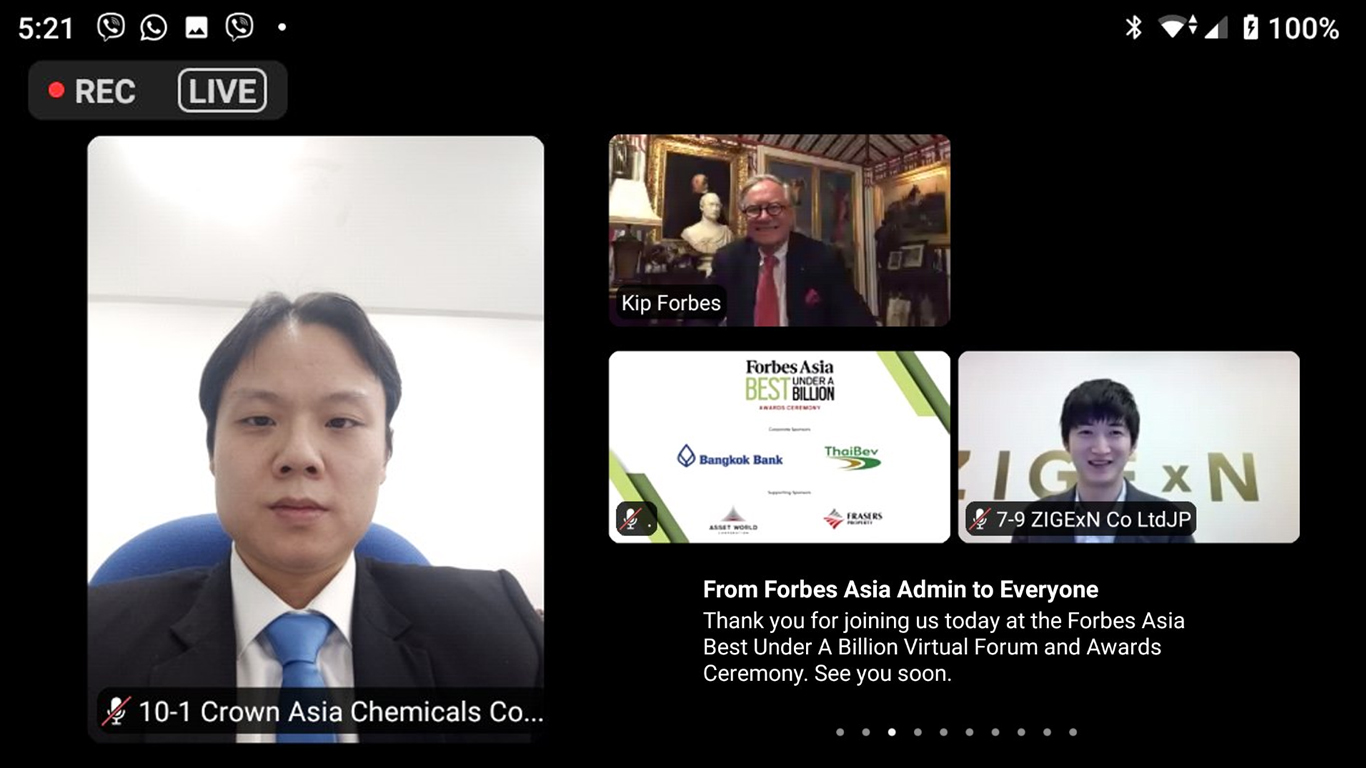 CROWNASIA CHEMICALS CORPORATION JOINS FORBES ASIA VIRTUAL AWARDS FOR 200 BEST
Asia Pacific Region's top performing listed companies in the annual Forbes Asia 200 Best Under A Billion attended the Virtual Forum and Awards Ceremony on November 23, 2020. Derrick P. Villanueva, Director and General Manager for PVC Pipes Division received the award in behalf of Crown Asia Chemicals Corporation.
In 2018, Crown Asia Chemicals was ranked among the Top 1000 High Growth Companies in the region by the Financial Times of London.
Crown Asia Chemicals Corporation, manufacturer of world class Crown Pipes, PP-R, HDPE and Crown compounds (Petrovin), is one of the three public companies from the Philippines included in the select group of awardees. Some 18,000 companies were screened for their overall track record measured for debt, sales and earnings growth over the most recent fiscal and three-year period and the strongest one and 5-year average returns on equity. The 200 companies in the final list had to go through qualitative evaluation of merits.
Crown Asia Chemicals is a value company that has consistently aligned its governance and management ethics to the company's vision, exercised prudence in decision-making for a financially sound result of company operations.
The company remains to be a viable investment in the Philippine Stock Exchange market. To date, its market price did not go below its IPO price. It has a consistent revenue and profitability growth and annually declares dividends to stockholders.
In the heel of the ECQ, the company had undertaken risk mitigation measures to protect its employees and provide stable jobs, resumption of normal operations and deliveries to customers.
The company is undergoing organization restructuring and alignments as it continues to explore possibilities for expansion of product lines and production operations. It is looking into forward integration and business collaborations for its sustainability efforts.